Regular price
£6,000.00 GBP
Regular price
Sale price
£6,000.00 GBP
Unit price
per
Sale
Sold out
U.K Mainland shipping is £79.99 added at checkout
Honda Outboard BF50LRTZ 50hp Engine - Long Shaft, Power Trim, 25l fuel tank, 12 volt 22 amp alternator,

COMPACT POWER
The BF40 and the BF50 are light, compact 808cc three-cylinder engines, with strong torque and exciting performance.
How do we do it? By giving them PGM-Fi electronic fuel injection for easy start up, powerful acceleration and outstanding fuel economy. The long, slim inlet manifold and miniaturised electronic components save weight and space, contributing to the compact slim design.
Better performance
Add to that our unique Boosted Low Speed Torque (BLAST™) and the super efficient lean burn control of the ECOmo system, and you've got a very impressive combination indeed.
WORKS HARD AND PLAYS HARD
If you're out fishing or just having fun blasting across the water, you'll still want the best engine for the job. But which one?
Both the BF40 and the BF50 are lively and responsive outboards that will provide dependable performance for water lovers whichever water they ply. Both are NMEA2000® compliant, electronic fuel injected engines with optional Trolling Control - no differences there - this outstanding range of 4 stoke engines feature a host of innovative Honda technology, in a fully new design.
SLOW AHEAD, AND BACK AGAIN
Small adjustments can be made easily, up or down, by 50rpm with trolling control.
Precise control at slow speed is just as important as high-speed handling, especially if you're fishing. The optional Trolling Control will simply adjust the speed through increments of 50rpm - making it ideal for fishing.
A WATERTIGHT WARRANTY
Like our engines, a Honda warranty is the best you can get.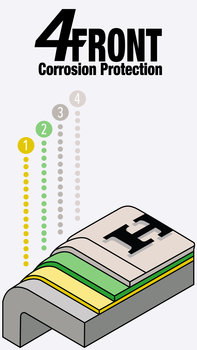 1. A patented double-seal anodising treatment to the aluminium alloy base. 2. An epoxy primer undercoat. 3. An acrylic aqua marine silver paint. 4. An acrylic clear resin topcoat.
The reason is clear: better salt water protection through better anti-corrosion technology and superior servicing with specially trained Honda technicians. Every Honda Marine customer has the support of a domestic or professional warranty, as long as you stick to the service schedule. It will maintain the same value throughout its warranty period. That means your last day of cover is as good as your first. We think that's pretty unbeatable too.
Four lines of defence
We first anodise the aluminium casing with our patented 'Double Seal' process. Then an epoxy primer is applied before the shimmering silver paint. For further protection from UV rays, we apply a clear resin topcoat to finish. And to be doubly sure, a sacrificial anode is fitted so all connectors are waterproof. Corrosion doesn't stand a chance.
Share
View full details