Regular price
£2,350.00 GBP
Regular price
Sale price
£2,350.00 GBP
Unit price
per
Sale
Sold out
UK Mainland postage is £100 added at checkout
Brand New 2022 Honda Honwave T27IE3 2.7m Inflatable Air V-Floor Boat Dinghy Tender & Brand New 2022 Honda Bf5 SHNU 5hp Outboard Engine
Comes with a full 2 year Warranty on the Boat and 6 Year Warranty on the Engine
5 HP Engine is Manual Start/Standard Short Shaft
The 5hp engine has an inbuilt fuel tank plus an attachment for an additional external fuel tank (additional tank not included)
The 2021 Onwards Honwave range has a New colour scheme, bow roller,handles and more.
The T27IE3 is another premium model in the range with great performance on inland or offshore water ways. 
It comes with the High pressure Air V-Floor
This is the Highest Quality you can buy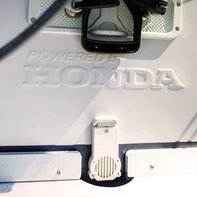 The 5HP Outboard Engine comes oiled up ready to go as part of our pre-delivery inspection
| | |
| --- | --- |
| Horsepower | 5 |
| Engine type | 4-Stroke, Single-Cylinder |
| Valves | OHV |
| Displacement | 127 |
| Bore stroke | 60×45 |
| Throttle range | 4,500‐5,500 |
| Rated power | 3.7(5)/5500 |
| Cooling system | Water Cooled (with Thermostat) |
| Fuel delivery | 1 carburettor |
| Ignition system | Digital CDI |
| Starting system | Recoil starter |
| Dry weight (kg) | 27 |
| Engine trim | Manual 5 stages |
| Length (mm) | 524 |
| Width (mm) | 347 |
| Height (mm) | 1200 |
Portable, compact and easy to use, this engine is packed full of the very latest Honda innovation. This engine is among the lightest in their class and they also pack a punch with a 127cm3 engine giving you efficient acceleration whilst also suppling high levels of torque. The new Honda decompression mechanism also means the engine can be started with minimum effort.
With a sleek design and sculpted lines which run all the way down to the super-slim hydrodynamic gear case, this means less drag and better fuel economy. With its stunning silver finish you'll see right away it's a Honda.
Transport and store with ease
Fitted with an ergonomic carry handle and with a foldable tiller handle means it is easy to transport.
Low vibration
Innovative rubber mounts developed by Honda keep vibration level extremely low.
Easy start
Equipped with Honda's decompression mechanism, minimum effort is required on the recoil to start the engine.
Convenient gear shift
The engine has an ergonomic gearshift to move forward, reverse or be in neutral position.
Look after your prop and your engine
The engine is light and easy to tilt up and out of the water that means the propeller blades are protected from damage in the shallows or at the water's edge. Its spring design allows it to be safely locked down when you head off again.
Inbuilt protection
This engine has an oil alert system, which will immediately warn you if any drop in pressure is detected while automatically reducing engine revs to a lower and safer level.
Due to the size and weight of the items they will be delivered by a Pallet Freight service
There is a Delivery Surcharge applied to certain Scottish & Ireland Postcodes, please contact us if you are unsure.
Packing Size (cm)
112x65x38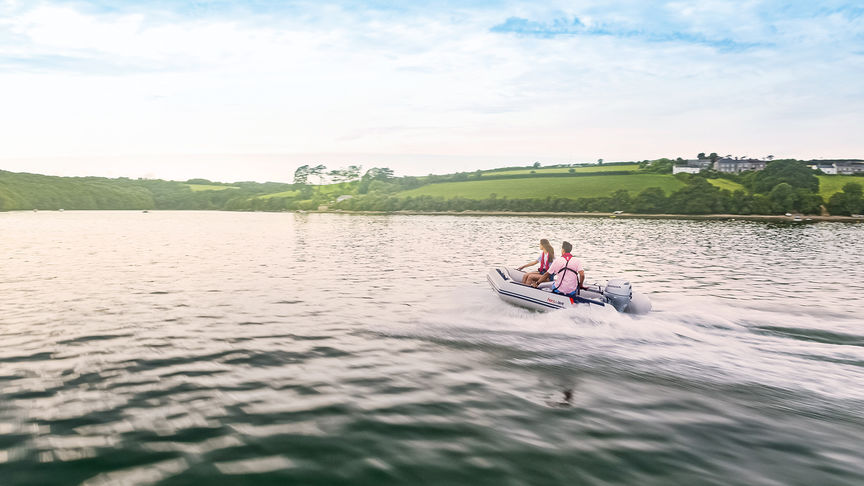 Our air V-floor inflatables are all about performance and agility. Their vibration-dampening floors help soften the ride and their deep-V hull design ensures the best possible stability at virtually any speed. 
Out on the water can be a harsh environment – after all it's the great outdoors. We've built our inflatables to endure whatever the wild can throw at them.
That goes for every kind of weather and seawater – our inflatables are protected against them all. They're manufactured with high quality European PVC – quite simply the best available – that makes them not only durable but also lightweight.
As well as being crafted from European PVC, our inflatables also have a thick rubbing strake around the entire boat. This not only acts as a bumper to protect the tubes from puncture, but its curved shape deflects spray.
Change the seating layout for your passengers.
Whether you're riding solo or with passengers, the seat holders are ready to be changed to alternative seating positions to accommodate your crew. There are also rugged safety ropes and holders, thick lifting handles and a clever oar lock.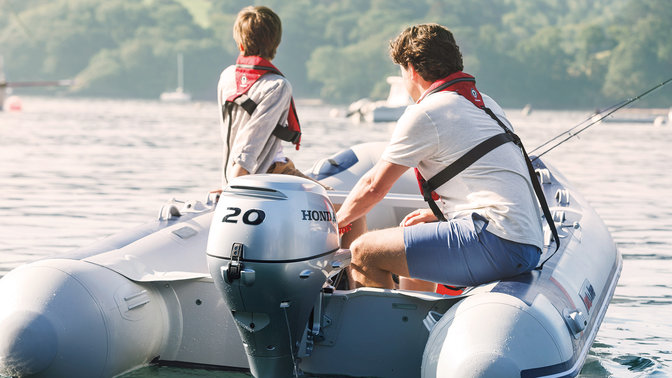 Owning a boat is about being on the water, not waiting for it to inflate. That's why all of our inflatables come with a high-capacity foot pump with a high pressure and deflate facility. It means more time on the water and less hassle packing up when it's time to head home.
Like our inflatables, a Honda warranty is the best you can get.
domestic use professional use honda marine 1 year 2 year warranty
Every Honda Marine customer can expect the support of a domestic or professional warranty. It will maintain the same value throughout its warranty period. That means your last day of cover is as good as your first. We think that's pretty unbeatable too.
0121 5688837
(Please note Images are for a guide only and may not be directly representative of particular products)
Share
View full details